Thanksgiving is coming up- and your students will enjoy bringing this festive holiday into the classroom. Thanksgiving can be used to teach a range of subjects for students of all ages- Social Studies, Art, Language Arts- some lesson plans even support Math and Science curriculums!
Our lesson plan idea this week comes to us again from Teachnology.  If you have not utilized this online educational resource, you are missing out! TeAchnology features 42,000+ lesson plans, 9,000 free printable worksheets, rubrics, teaching tips, worksheet makers, web quests, math worksheets, and thousands of other great teacher resources for K-12 teachers.
There are so many options on their Thanksgiving Lesson Plans page that I had a difficult time selecting this weeks featured lesson plan! Visit their site to see their complete list of Thanksgiving teaching resources.
Lesson Plan Title : Moving to a New Land
Age Range: Grade 6 through grade 8 (Middle School)
Overview and Purpose: Moving to a new place is always stressful and difficult. In this lesson, students consider all the Pilgrims had to do and what they chose to give up when they began a new life in America.
Objective: The student will be able to explain the difficult choices the Pilgrims had to make when they were deciding whether to move to America.
Resources:
Internet access for students
Blank paper
Activities:
Divide students into groups of three. Have them create a web showing the things the Pilgrims had to consider when they were deciding if they would move to America. If students are having trouble getting started, prompt them to think about the things in their lives: housing, friends, and jobs.
Sample Web (from Teachology):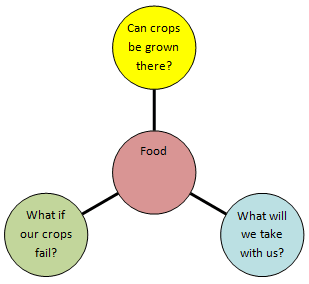 Wrap Up:
This project could become very involved and last several days. Students can continue the activity by researching solutions to the questions and concerns they posed.
Filed under: Classroom Exercises, Lesson Plans, Lesson Plans- Social Studies on November 11th, 2010